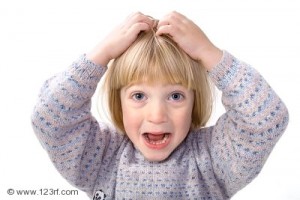 If you have a child with sensory issues you have a world of trouble when the note comes home from school. In our case, it wasn't even a note. Random Guy went with Grandma to get his haircut while SensiGirl and I were at occupational therapy. The stylist found a few nits and stopped cutting his hair. I found a few more and treated Random Guy with the generic pack of lice treatment. I knew to do this from a friend who has been having the lice plague go round her school for two years. She recommends the double pack. My friend also reported that lice infestations are down now that the school sends a note home for the WHOLE grade when a child is found to have lice. Before they did it just for the individual classes.
The next treatment was for SensiGirl. We didn't know if she had any nits or not. SensiGirl has light brown hair, it was almost an impossible to see the nits and to get her to sit still and keep track of where was combed and checked and where wasn't. I did my best and then treated her as directed with the Ladybugs prevention kit, and combed again. She is not a cooperative subject to say the least. She is very defensive about her hair being combed.
Of course there is all the cleaning and vacuuming. I had to accomplish most of that while they were at school, but some had to be done before they went back, (their beds.) There was a lot of screaming about the vacuum. I was on a mission, I had to do it.
I asked Random Guy's teacher to move his coat hook to the end of the row. Since SensiGirl doesn't let me really, really nit pick, I have to work the prevention angle as best I can. I explained how our family would be a weak link if we didn't get on top of prevention since SensiGirl doesn't let me keep the treatments on for as long as I am supposed to. When the note came home from SensiGirl's school, the teachers told me they had checked her head. I checked it again, and ran the Robicomb and then did the Ladybugs treatment.
Terri Mauro at about.com has some extra tips:
http://specialchildren.about.com/sensoryintegration/headlice
Here are the items in my arsenal against lice:
Robicomb
- This is good way to check if you can't see those tiny nits very well. Careful, it does have a little electric charge while it is running, so keep it angled as directed to avoid any twinges. If you zap your Sensikid, you won't get another chance to use it anytime soon. It's handy for checking yourself for nits too.
Cetaphil
- This is the backup when you can't use the pesticide treatment within the recommended time frame. Here are the instructions for the treatment method.
http://www.smsd.org/schools/belinder/cetaphiltx
Generic double pack lice treatment kit
- It works just as well as the brand name stuff and you get two treatments, so you have one on hand for the next time it happens. (It will.)
Plastic hair clips
- To keep the hair you have checked apart from the hair you haven't.
Plastic shower caps
- To put on heads while the treatments are on, to keep chemicals from running into the kids eyes, and to keep down the smell.
Ladybugs prevention
- This is what I do when the note comes home and I can't find any nits. I foam up the kids heads when it is bath time. (It is bath night whenever that note comes home.) Then every morning before school I spray their hair before going to school. So far so good. I suppose you could use some kind of peppermint essential oil or regular Listerine (as the nurse at our pediatrician says she did,) for prevention. Grandma was as freaked as I was, and bought the whole kit from the salon. So we have it on hand now. The kids don't mind being sprayed with the peppermint oil blend spray if they know it will keep me from nit picking them.
http://www.ladibugsinc.com/
If you seem like you are stuck in a cycle of infestation you can always call the professionals. In our area we have at least four service providers for lice removal. It is expensive, but you do what you have to do.
I hope what I wrote or links I gave can help you keep your Sensikid lice free, or help make the treatments easier.